We joined an Athletic Country Club.
3 pickleball courts, 3 pools, 3 saunas, a basketball court, a rock-climbing wall, and every style of fitness class you can think of.
If we're not with our kids or working - we'll be there. 🏋️‍♂️
☀️
Livin' La Vida Luna y Luca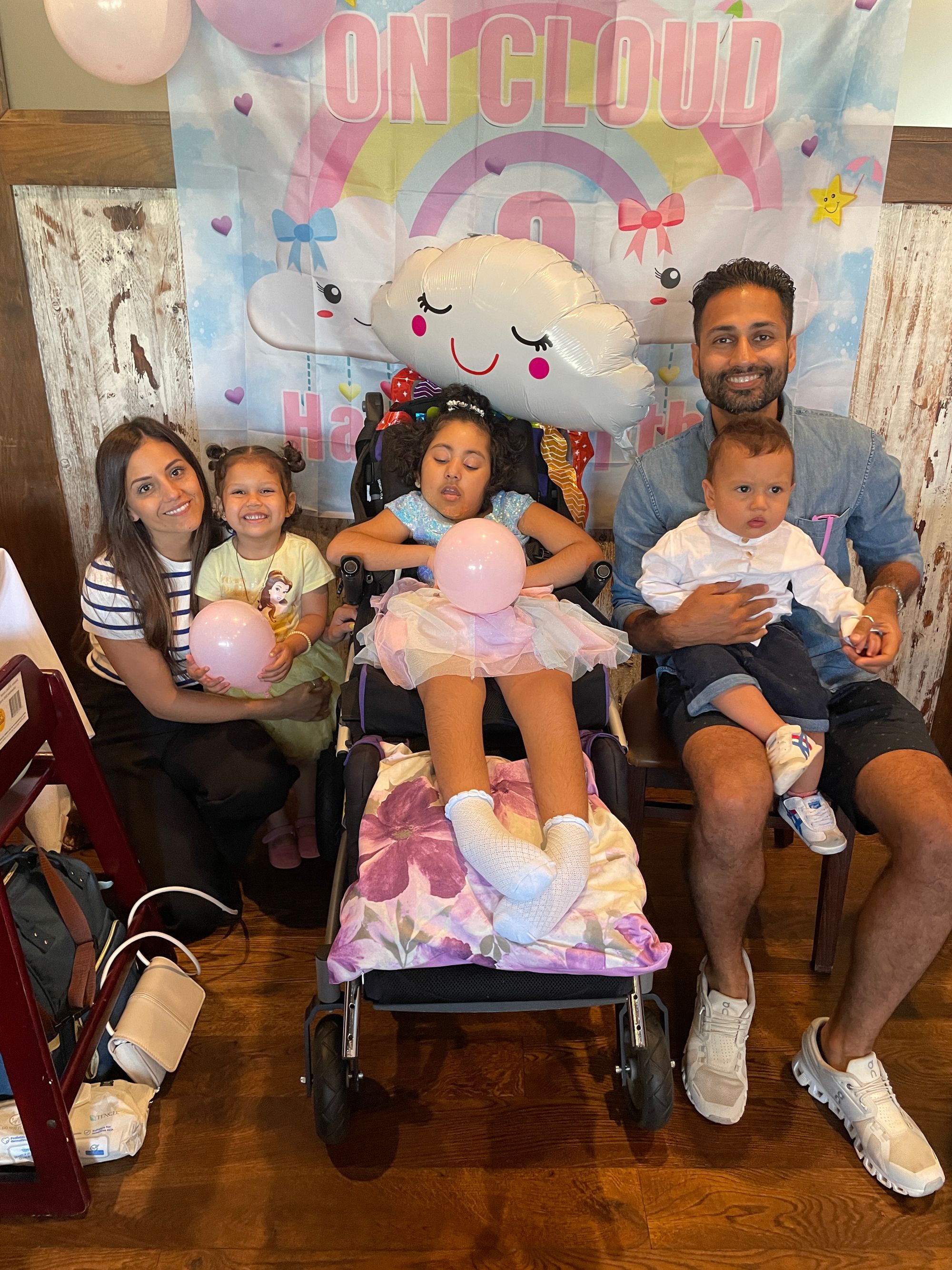 A very happy 9th birthday to our cousin, Ariya.
Draw Schedule
Our Front St project in Philadelphia is making great progress.
We finished the mechanicals, electric, & plumbing and just drywalled the big house (Front St).
We just installed hardwood floors in the smaller unit (Fitzwater).
All of the work so far was funded via Private Money Lenders and a Credit Card.
We did, however, arrange a $160,000 construction loan with the bank that funded most of the purchase price.

Requesting a Draw
Two weeks ago, I wrote about feeling a little stressed about having $30K in the bank and owing $30K on the credit card for this project.

That feeling led me to request a draw from our lender on July 26th.
To complete the request, I had to provide:
Lien Waiver from General Contractor
An Amount Requested
The amount requested is always a little tricky. Most times, lenders will only fund completed work.
So let's say you spend $10,000 on kitchen cabinets, but they're not installed by the time the draw inspection occurs - you're likely not going to get that money.
The strategy I subscribe to (as far as draw requests go) is "Shoot for the stars, land on the moon."
For my draw request, I simply sent a YTD Project P&L and asked to be reimbursed for everything except acquisition and carrying costs.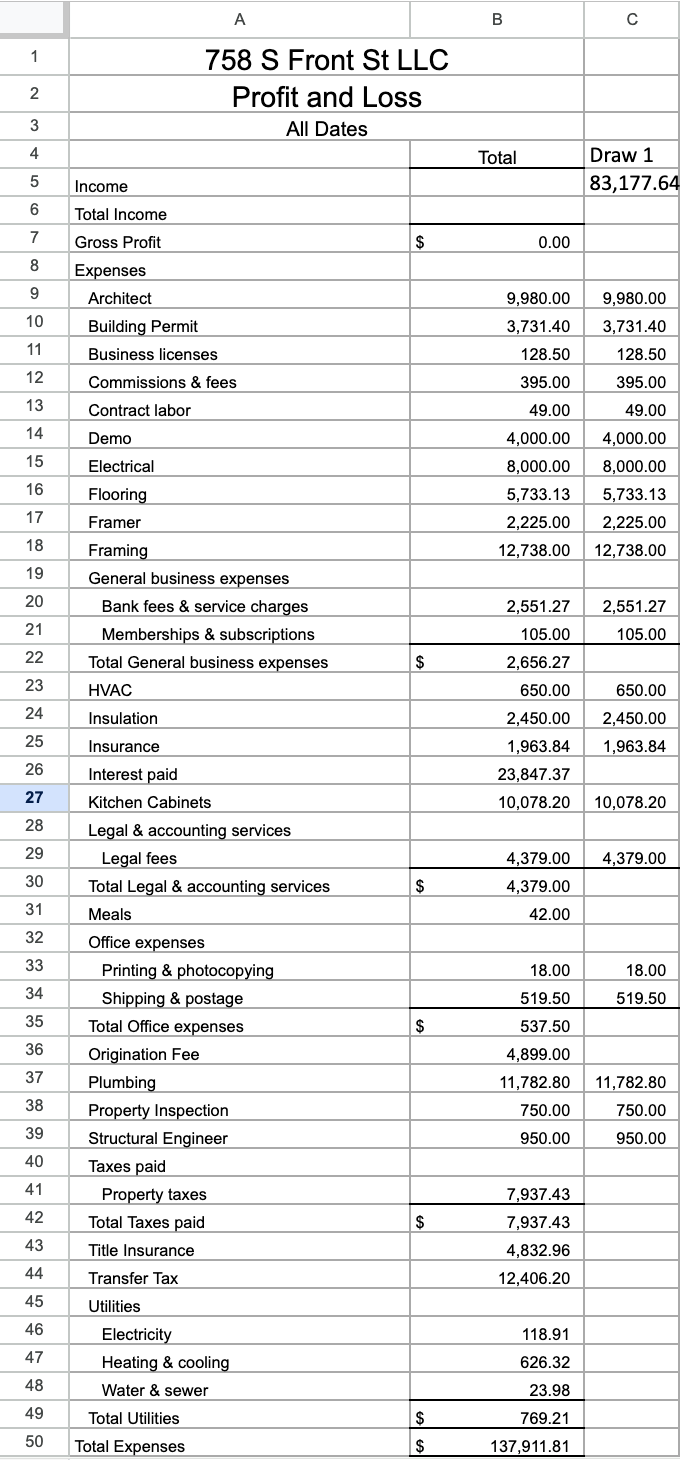 My total request was $83,177.64.
But here's the list of items I knew I had no business asking for (lenders don't typically reimburse soft/professional costs):
Architect - 9,980
Building Permits - 3,731
Business Licenses - 128.5
Commissions & Fees - 395
General Business Expenses - 2,656
Insurance - 1,964
Legal Fees - 4,379
Office Expenses - 538
Property Inspection - 750
Structural Engineer - 950
Total: $25,740
$83,177.64 - $25,740 = $57,437 (probably what I deserved).
Guess how much they sent me?

$63,521. About $6K more :)
See what I mean by shooting for the stars and landing on the moon?
Draw Management
This is the first time I've had to actually manage a project to a draw schedule with a hard money lender. I usually fund construction with private money.
I'm finding it difficult because even though we just received this huge cash influx, it feels like the money's already been spent.

As of today, we have a little over $80K in the account but we also owe a little over $40K on the project credit card (payment due August 4th) - leaving us with $40K in cash.
That remaining money needs to fund enough work to get us to our next draw. 🤞
The other downside of drawing from the construction loan is it increases our debt service. This ~$63,500 increases our monthly interest payment by about $600 for the life of the project.
Pro-Tips Before Signing Off
Finance Friday: I reconcile my books every Friday. If I didn't take bookkeeping seriously, draw requests would be a major pain in the ass. I use Quickbooks Online for every project.
Project Credit Card: I open a new Chase Ink Credit Card for every house I buy. My credit score takes a small hit every time I open a new card, but not so much that I've had to veer away from this strategy. The Credit Card provides an ample time buffer between paying for something, having it installed, and requesting reimbursement from the lender. The 100K Bonus Chase Ultimate Rewards points don't hurt either.