I thought this was the year Penn State would beat Ohio State.
Another notch in the learned helplessness belt.
☀️
Livin' La Vida Luna y Luca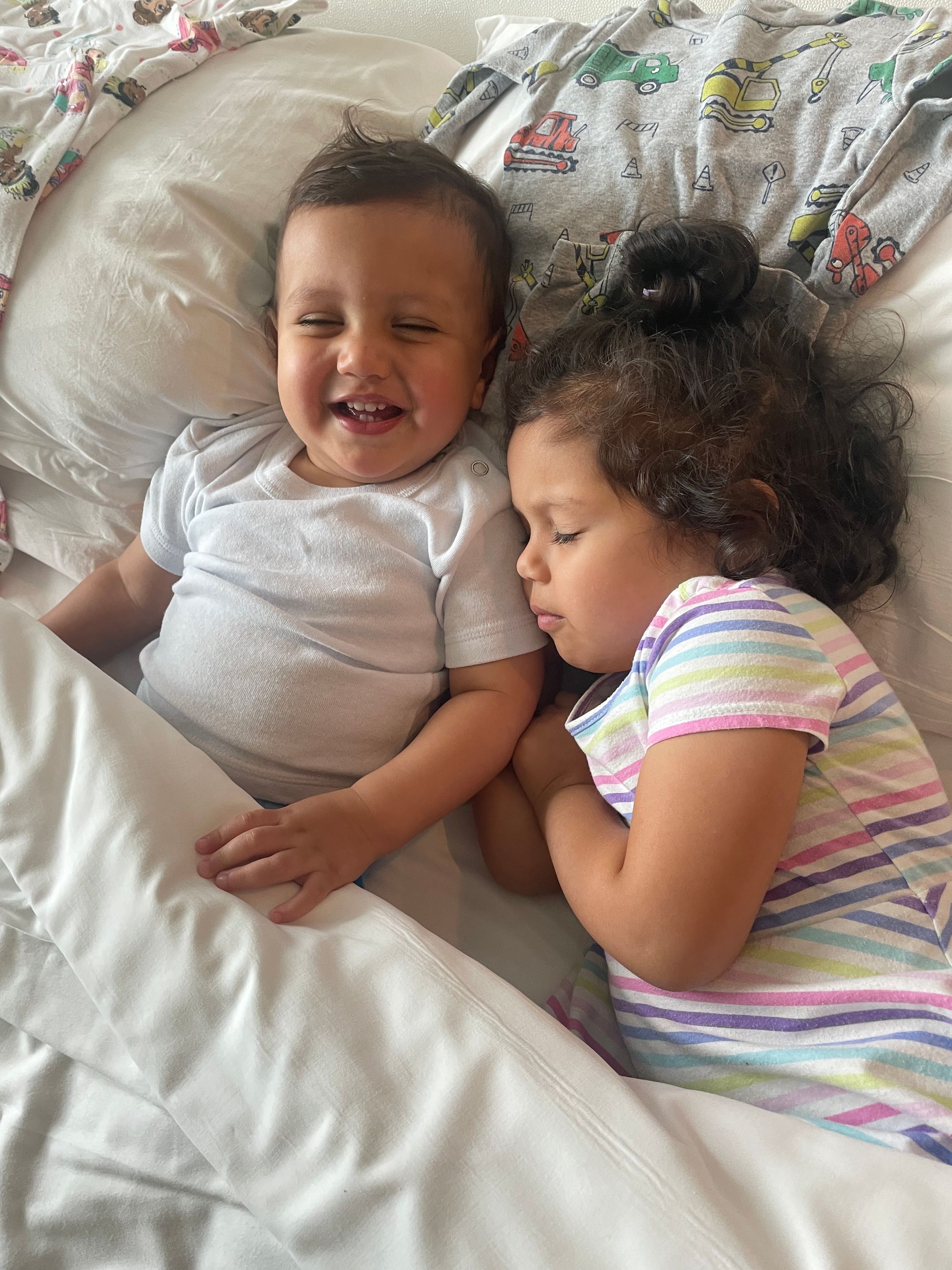 Luna pretending to sleep, Luca blowing her cover.
Bahama Lessons
We just got back from the Bahamas. This was our first "real" vacation since Luca was born (not including Mexico City a few months ago).
A couple of key lessons learned:
We're Not Really on Vacation
We're just taking care of our kids in a different country.
Since I've become a parent, vacations tend to serve a different purpose.
They're no longer about rest, relaxation, or reflection. They're mainly a growth experience for the kids.
The only time I felt like I was on vacation was when the kids were sleeping. It was in those few hours/day that Dia and I got a bit of time to ourselves to enjoy a new location like we used to.
Don't get me wrong. I love seeing my kids explore a new place, but it's mostly just a lot of worrying about their well-being. Are they sleeping enough? Are they eating enough? What sharp edges do I have to worry about in the room? My head is on a swivel trying to make sure some rando doesn't run off with either child.
It's my normal everyday anxiety x 1,000.
Off-Season = Not Worth It
Don't go to the Bahamas in October.
High Season: Mid-December to mid-April.
Shoulder Seasons: Late November and May to August.
Low Season: August to November. 🤦‍♂️
We got there Tuesday afternoon and left Saturday morning. Only Thursday felt like we were on a legit tropical vacation. Every other day was overcast, raining, or not quite hot enough to go into the pool past our knees.
This is more a reminder for myself than anything else. Don't try to save a few bucks by going during the off-season. If the conditions end up being anything less than ideal, instead of feeling like you saved 50%, you mostly feel like you wasted 100%.
Grandparents 🔓
We weren't ready to go on this vacation unless we convinced one set of grandparents to come with us.
I pitched this as a 70th birthday celebration for my mom so they accepted our invite.
We got connecting rooms and the kids loved having them there. They definitely took a huge load off our backs. My dad carried Luca every time he wanted "Uppy" and my mom spent a good amount of time just listening to Luna's stories.
All-Inclusive > A La Carte
All-inclusive sometimes gets a bad rep because the food quality probably isn't as good as an A La Carte Resort.
It makes sense. But honestly, I'm not going to a beach vacation for the food, so whatever. Case in point: we ended up going to the Pizza place twice in 3 days and had breakfast at the same cafe 3/4 days.
We spent about $1,000 on food with 4 adults and 2 kids in 4 nights.
I'd rather pay that $125/room-night up front and just get food at my convenience. The "pressure" of selecting the right restaurant and having everyone be hungry at the same time, etc. etc. was too much to manage. The kids barely ate and whatever we packed in a doggy bag ended up getting thrown away.
Also, the lag between selecting a restaurant, sitting down, ordering, and actually eating, is so much bigger than simply walking into a buffet and filling your plate before you even find your seat.
I'm sure not everyone agrees. I just value convenience above all else.
Still Got That Itch
Ok - that sounded weird...
But I'm talking about gambling. We stayed at The Grand Hyatt Baha Mar and the main attraction there is a Casino.
Dia and I lost a little in Roulette, but we won it all back at the Blackjack table.
The ups and downs of a gambling session are so fun for me. Sharing that excitement with Dia is great because she's so nervous at the tables. So while I'm slapping the table and yelling "Monkey!", she's pulling her hair out and breathing like she's in a Lamaze class.
Gambling is probably my favorite pastime. I don't even have to win... As long as I can play for ~30 minutes and experience some exciting hands, I'm good.
So Many Kids
I saw so many families with 4+ kids.
HOW!?
Parents were fit too. And wearing statement pieces.
Here I am thinking we need more resources before having more kids. Maybe it's the opposite: more kids bring more resources. 🧐