Just finished the Elon Musk Biography by Walter Isaacson.
I don't recommend reading it. 600+ pages. Took WAY too long lol. Maybe Audible, if anything.
I'm glad he exists, but I do not envy him in any way, shape, or form. His life looks v difficult from all angles.
He is (or was?) the richest person in the world... But I think he has even more power/influence than money, which is wild to think about.

This is why I guess we'll likely never see a Gates, Musk, or Bezos-type run for office. These people have a better shot at bending reality to fit their worldview as an entrepreneur than they would as a leader of the free world.
☀️
Livin' La Vida Luna y Luca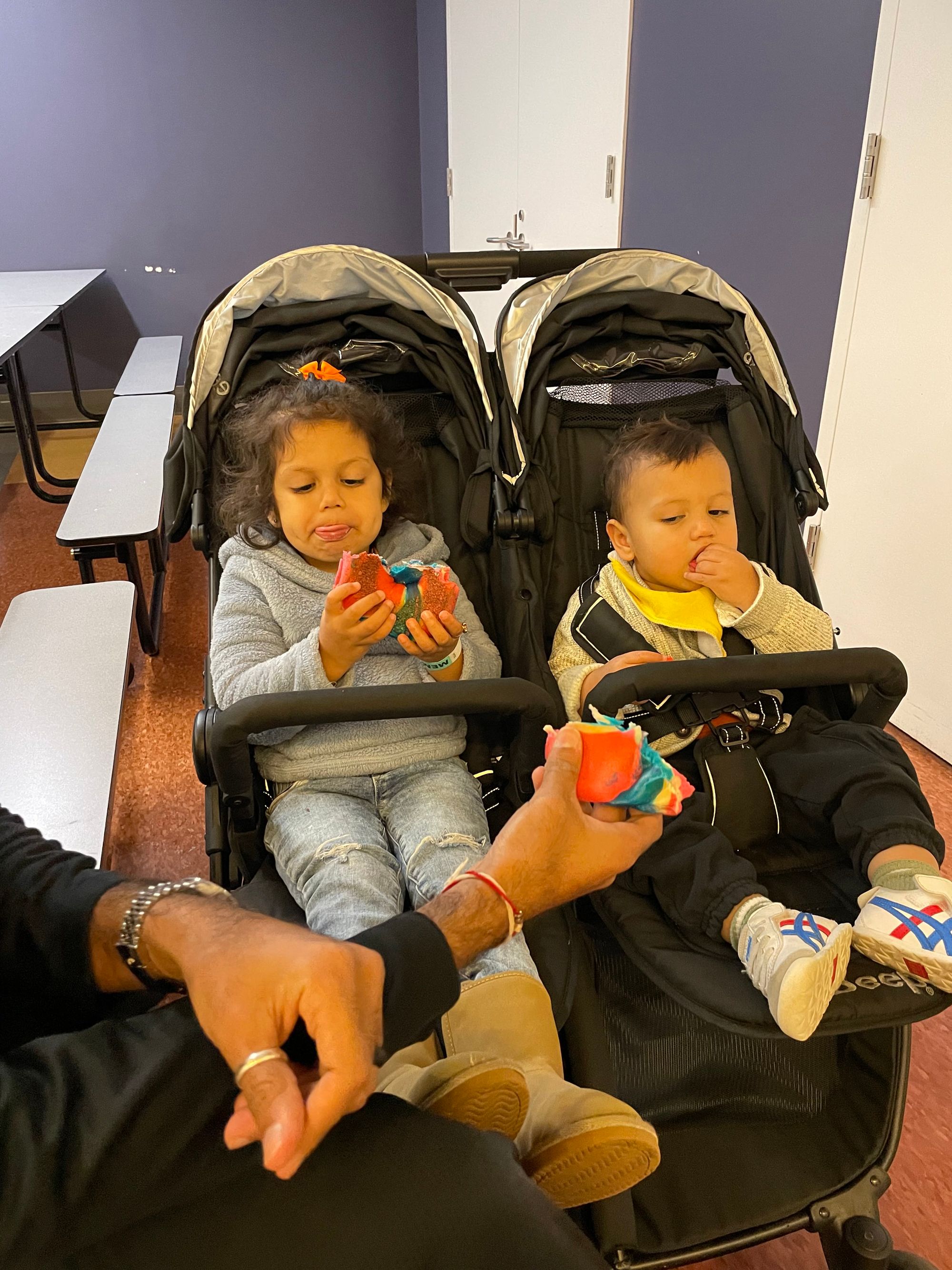 Rainbow Bagels at Liberty Science Center is such a vibe.
Done is Better Than Perfect
When I bought my Washington Project back in December 2021, I wasted MONTHS massaging the floor plan with my Architect.
I wanted it to be absolutely perfect before we submitted for construction permits.
EH! WRONG. 🙅🏽‍♂️
Time is Money and Done Is Better Than Perfect.
I was reminded of that notion twice✌️ this week.
Let's get into it.
Philly Condo Conversion
I was outvoted in a 50/50 partnership. 🤔
My business partner, Francis, decided to go ahead with listing our latest flip even though we haven't quite made it into the end zone yet.
What do I mean by that?
Well, the following items are not yet complete:
Baseboard
Cabinet Pulls
Plug Plates
Plumbing Fixtures
Light Fixtures
Mirrors
Floor Vents
etc.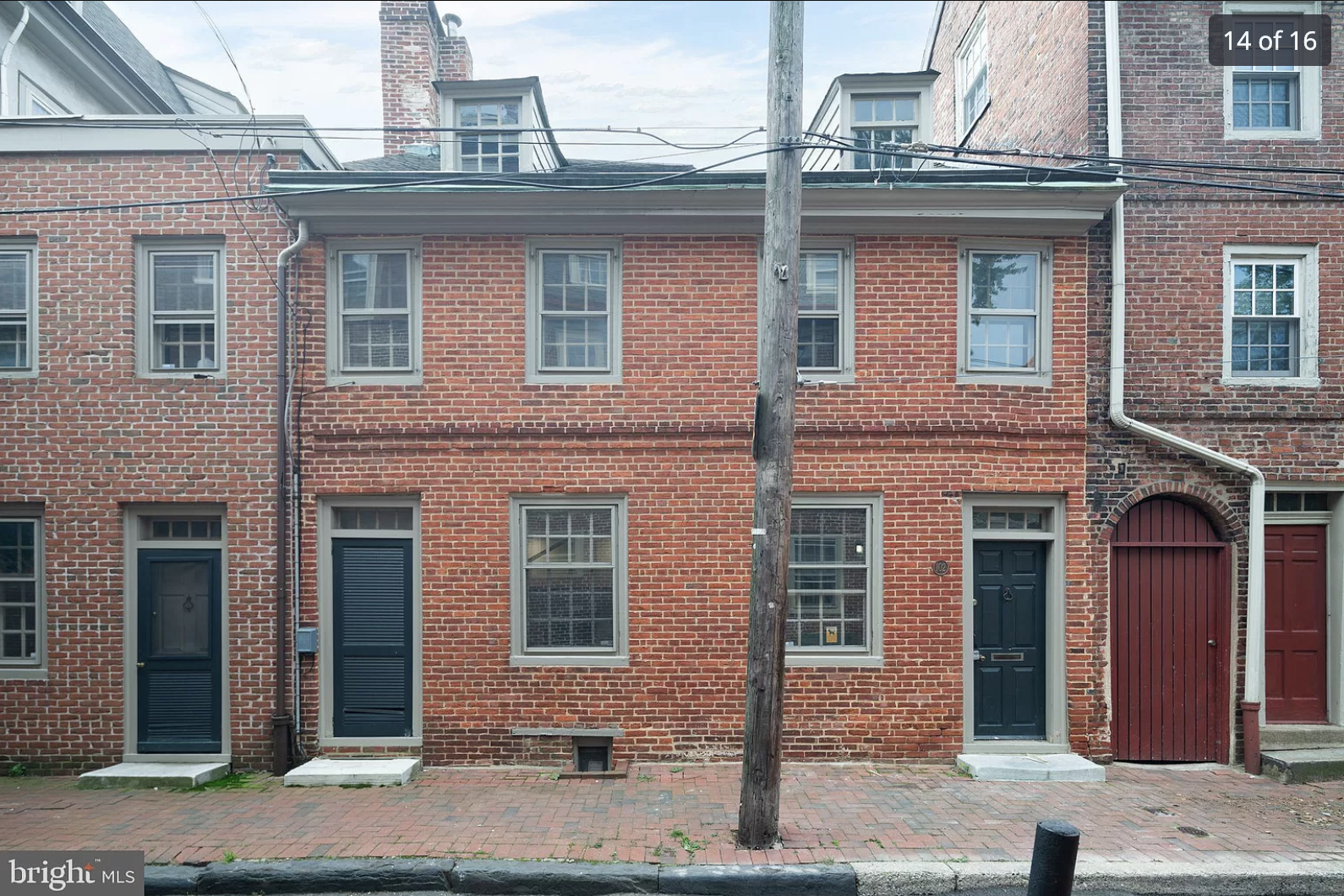 Alas, it's a $400,000 product so the buyer is less picky.
However, I'm a firm believer in "How you do anything is how you do everything."
I prefer to put out a refined finished product, but I'm being told this price point is more forgiving.
Also, our goal was to list by the end of September. We're two weeks behind schedule. That played a role in rushing the listing out as well.
Despite going active less than 48 hours ago, we already have half a dozen showings booked for this week. 🤞I'm looking forward to being wrong.
FYI: 102 Fitzwater is the smaller unit of the condo-conversion project we bought back in March.
I think the team did a stellar job with the listing description copy:
Discover the epitome of historic elegance at 102 Fitzerwater St!

This newly renovated historic home in Queen Village is a truly a rare gem. Nestled on a tree-lined block, with picturesque brick paver sidewalks, this home is a testament to timeless beauty mixed with modern comfort.

Step inside to find White Oak hardwood flooring that runs throughout the entire home, adding a touch of sophistication to the living spaces. The kitchen is a culinary enthusiast's dream complete with gorgeous white cabinetry, stainless steel appliances, and a pristine Marble backsplash that elevates the space.

Upstairs you'll find 2 spacious bedrooms, and 1 full bathroom featuring floor-to-ceiling tile, adorned with elegant gold hardware and herringbone design, offering a spa-like, luxurious oasis.

The large, unfinished basement runs the full length of the house and offers plenty of room for storage.

Enjoy a generous 28-foot frontage on Fitzwater St, providing a sense of space and distinction on a lovely block. Immerse yourself in the vibrant Queen Village community and the renowned Meredith School Catchment.

With this exquisite property, you'll experience the best of both worlds – historic character and modern convenience.
Florham Park Floor Plans
Although we don't plan on closing for at least another month or two, we're making steady progress on the Florham Park New Construction Project.
Our Architect sent preliminary drawings based on our comp, and I wasn't a fan.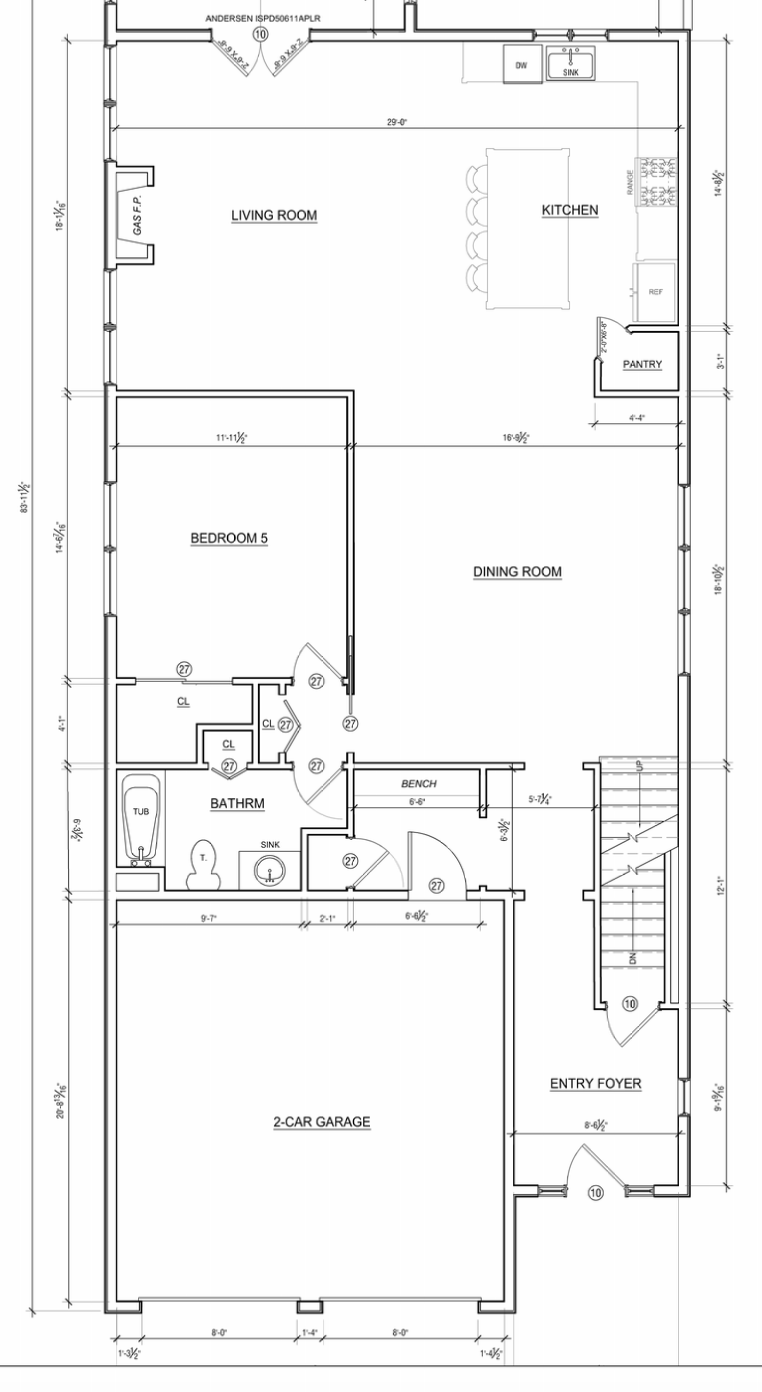 My partner and I spent a good 30 minutes on the phone taking notes on all the changes we wanted to see. But honestly, it's so hard to visualize words.
This was my take:
Kill the stairs and bedroom 1.

Let's, instead, do 3 floors of a stacked staircase above the bathroom off the garage.

Then let's flip the Kitchen and Living room so 1) you can see straight into the back yard from the garage as well as the front door AND 2) We can do a walk-in pantry opposite a butler's pantry/wine bar between the stairs and kitchen.
You might say, "Ahh... I know what you mean", but it's still really hard to visualize the space.
Go ahead. Try it. Re-read my note from above and try to manipulate the floorplan in your head to see how difficult it is.
So what's the next step? Hang up the phone. Stop talking. Start Drawing.
A FeW mOmENtS LatEr...
Here's what I came up with: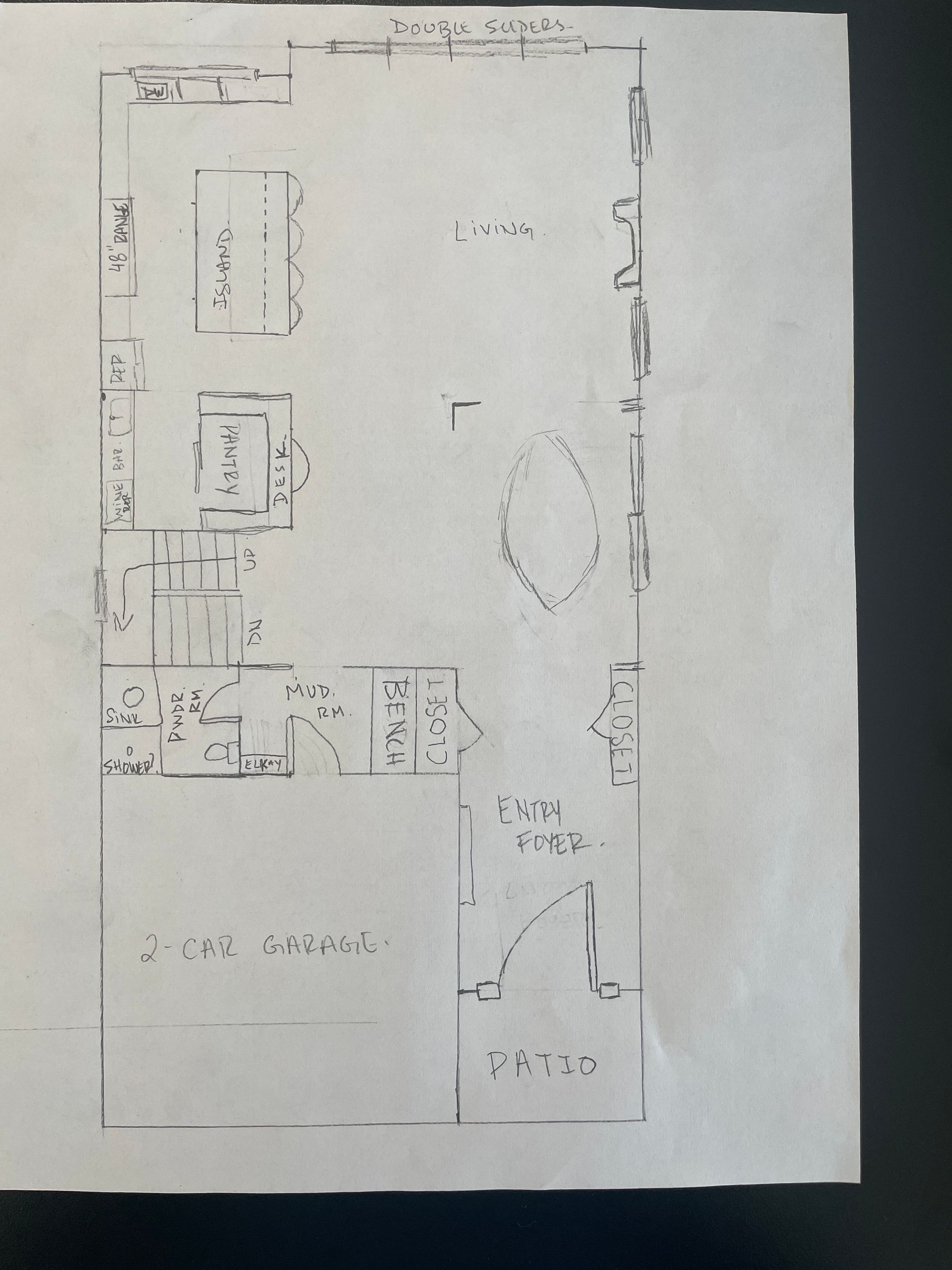 In my not-so-humble opinion... This floorplan is *licks thumb* Slappin' da bass, Mon!
You're no longer entering your home and being greeted by a wall (garage) or stairs (front door).
Instead, you now have a direct line of sight into the backyard through double sliding doors no matter how you decide to enter your home.
Despite only having windows on two walls, the amount of light being brought into the open concept space blows away the original floorplan.
There's NO dead space. Look at the back-to-back-to-back-to-back (4x) closets in the original floor plan. What is this? Lebron's third act of a championship run? I wish, but no thank you.
The subtle support wall in the middle of the floor plan will house the thermostat and help delineate the dining room from the living area.
Also...what is that? A Pantry for ANTS?! I want to walk into another zip code for my Doritos, please.
Is there anything worse than opening the door to a bathroom and immediately seeing the toilet? God forbid someone forgets to lock the door. They can't even reach the door to defend themselves! C'mon man.
Ok, ok...I'm done.
No wait, one more thing.
Need a dedicated space to take Zoom calls while working from home? But you don't want to worry about showing too much of your home and also don't want to crawl down to the basement or repurpose a bedroom?
No worries, you can use the built-in desk on the back wall of the walk-in pantry. The only thing behind you will be the oversized oval-shaped dining table you use 6 times a year.
Is the space I drew perfect? Absolutely not.
Did I redraw the basement and second floor? Hell no.
Have I done enough to give the architect a fighting chance on his second pass-through? Yes. And that's all that matters right now.
Because Done is Better Than Perfect.