Everyone has a different way of knowing Summer is officially over.
Today is that day for me (and most of my boys from College).
HBD Ragz.
☀️
Livin' La Vida Luna y Luca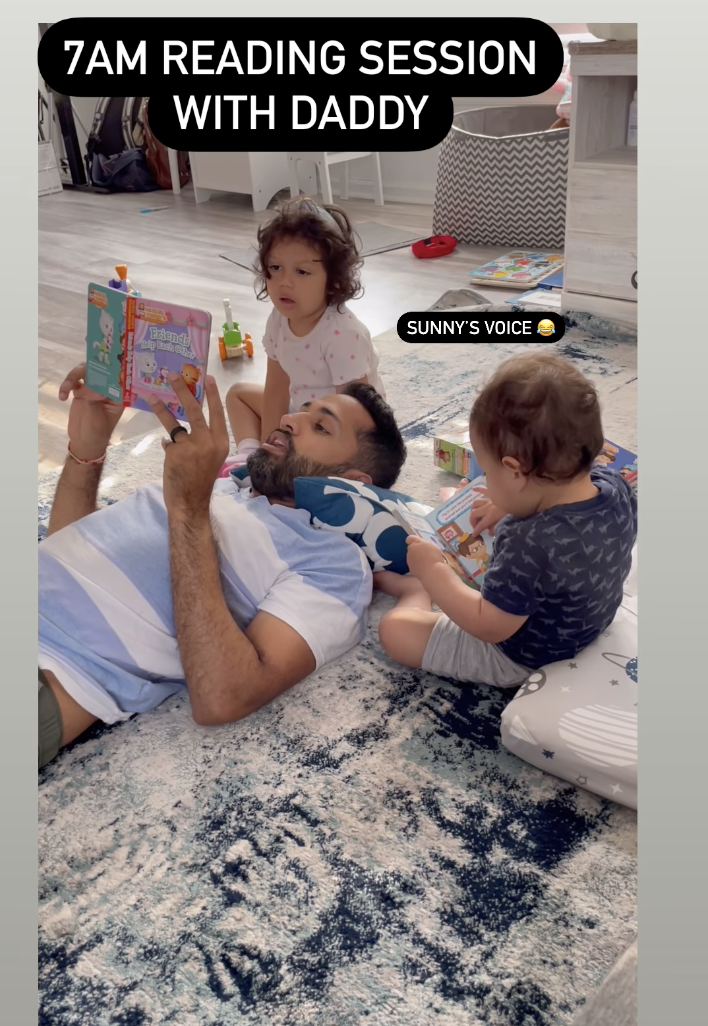 Dia caught me doing my Katerina Kittycat impersonation for the kids and blasted it on IG.
I'm going to let this one slide... as long as she doesn't put out my Spanglish version of 3 Little Pigs. 🐖 🐷 🐽
Philly 4-Plex
Like clockwork, I pay my investors on (or before) the 1st of every month.
Here are just the people I pay through Venmo.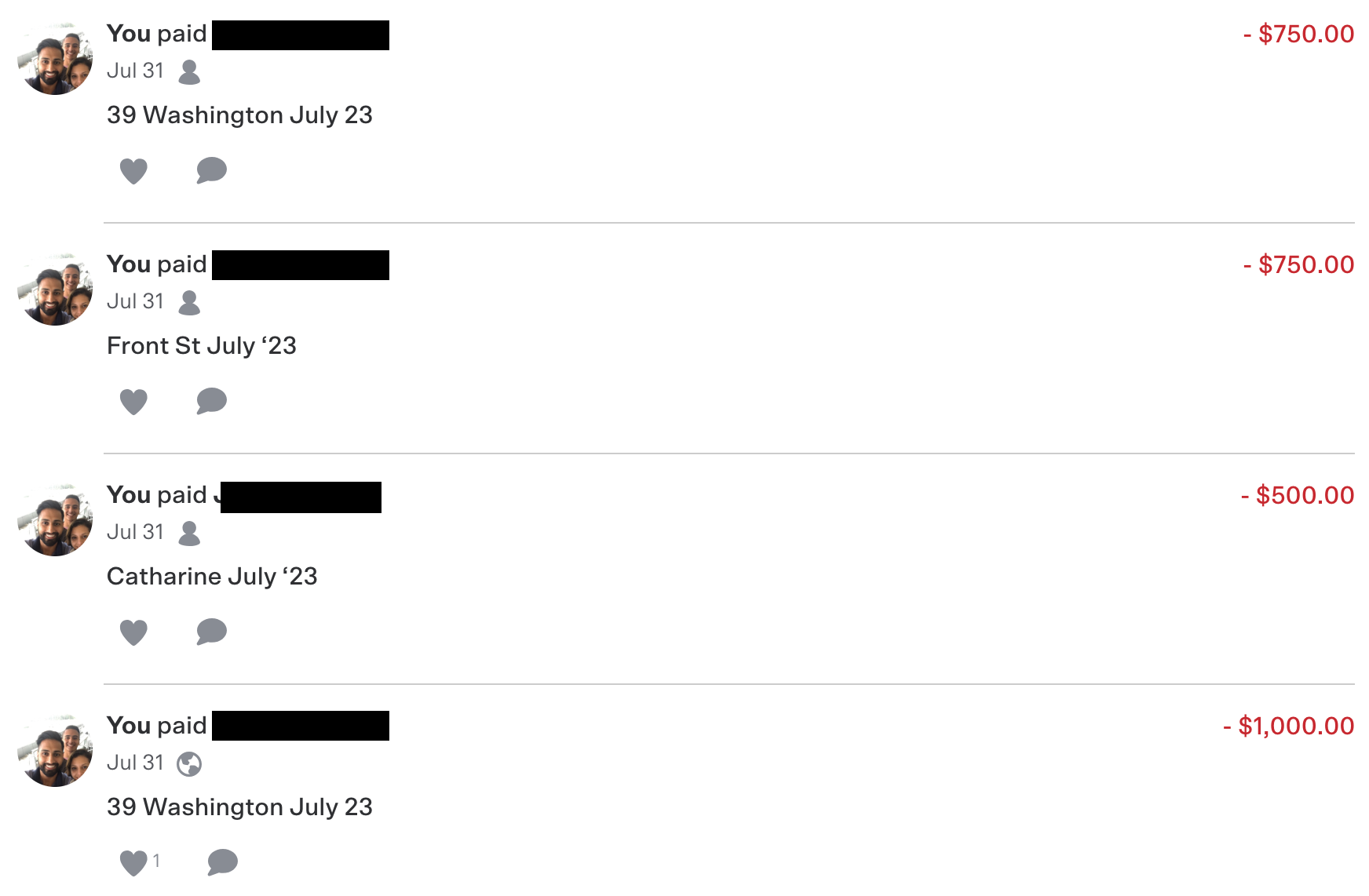 I haven't missed a single investor payment since starting 6+ years ago.
I don't plan on missing one anytime soon.
4220 Baltimore
My partner, Francis, and I are buying a 4-plex shell in the University City neighborhood of Philadelphia, PA.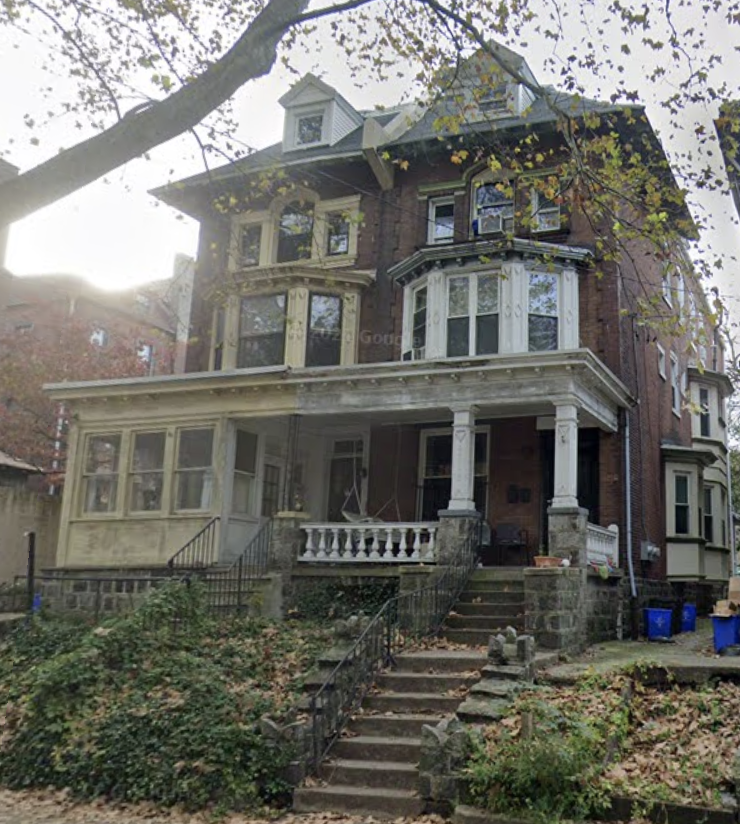 We're currently under contract at $475,000 with a 4% seller assist, which brings our effective acquisition price down to $456,000.
Our rehab budget is $400,000 and includes the following scope of work.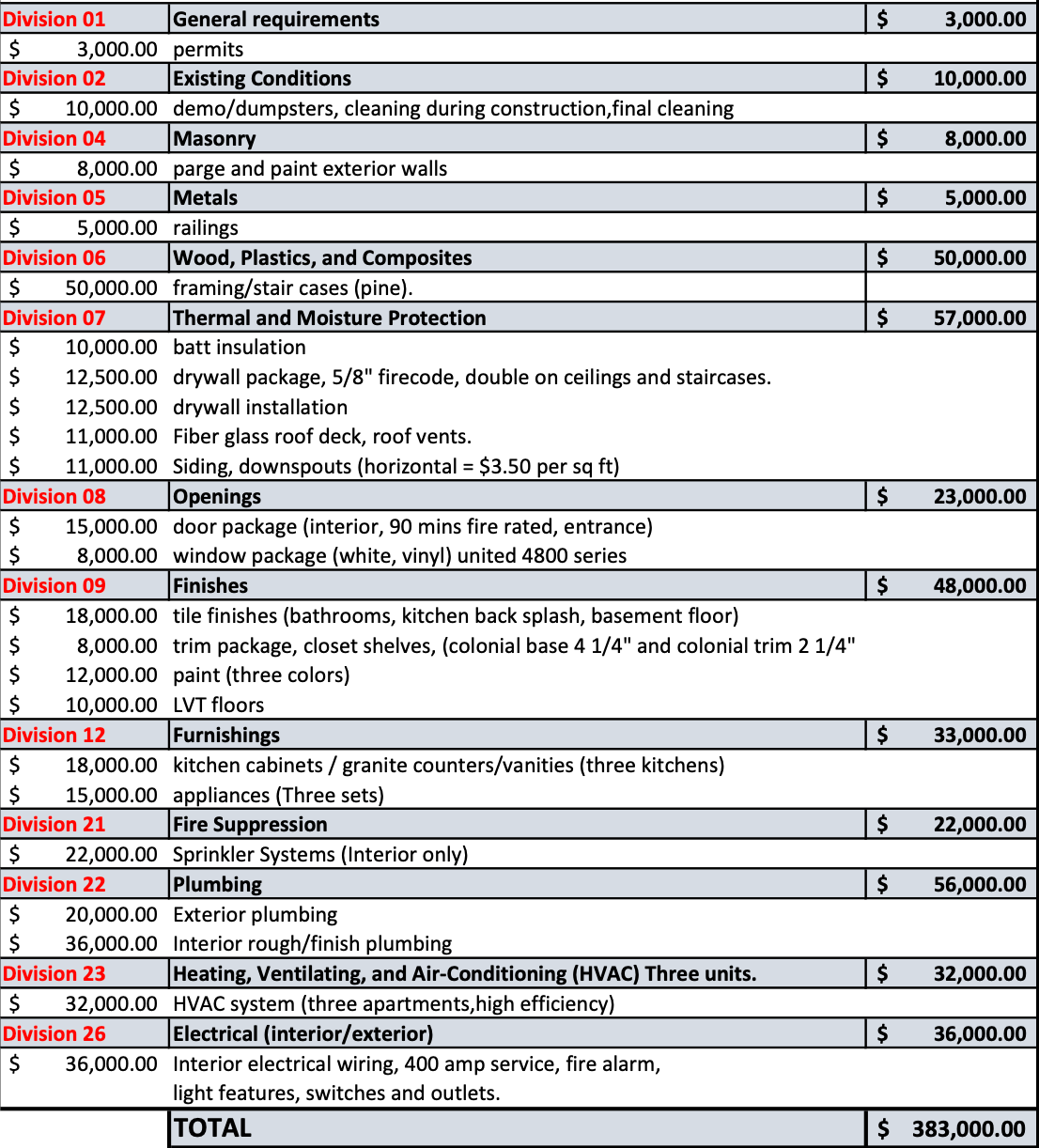 Our cost-basis after renovation is ~$915K (including purchase, renovation, interest, and other carrying costs).
Comps
We have two comps. The first sold for 1.25M and the other sold for 1.3M.


We're splitting the difference and underwriting an ARV (After Repair Value) of $1.275M.
B.R.R.R.R (Buy, Renovate, Rent, Refinance, Repeat)
Despite the massive paper equity gain (~$300K+), we're planning to hold this asset for the long term mainly because of its location.
We believe we can achieve a monthly rent-roll of $8,750 across 4 units, which is conservative because one of the comps is generating $9,050/month in rent and it's in a QOZ (Qualified Opportunity Zone).

A Safe Investment
Francis and I believe this is a conservative investment for 2 reasons.
Unlevered Yield On Cost > Market Cap Rate
Substantial Equity Buffer
1. Unlevered Yield on Cost > Market Cap Rate
Unlevered Yield on Cost (UYOC) is the amount of Net Operating Income (NOI) a property generates divided by the total cost to purchase and improve the property (if paying cash).
Cap Rate is NOI / Purchase Price. Based on one of the sold comps, we know the Capitalization Rate for this asset type is 7%.
Our rental proforma calculates a UYOC of 8.9%, computing a cap rate spread of 1.9%, which is significant.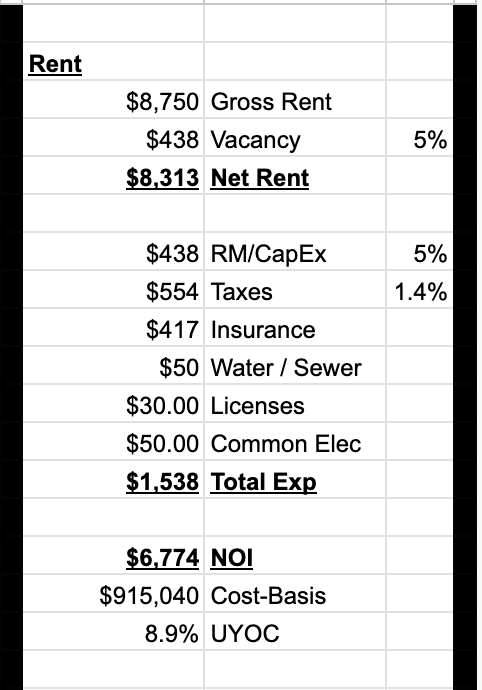 2. Substantial Equity Buffer
This project looks even better from an equity creation perspective.
If we split the comps and achieve an ARV (After Repair Value) of 1.275M, our Net Margin looks like $192K, which is 15% on sale and 21% on cost.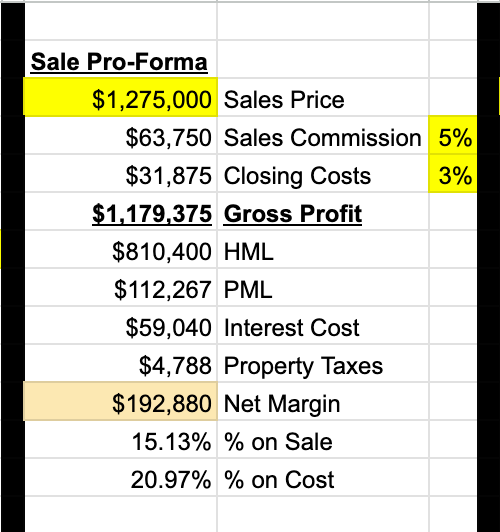 Invest in This Deal 💰
Between the down payment and working capital to start the renovation process, we are seeking a debt investment of $180,000 from someone like you.
Ideally, one investor can fund the entire loan, but we understand $180K is a large amount, so it may take two to tango. 💃
Here's what you'll receive in return for your $180,000 investment:
10% Interest Paid Monthly - $1,500/mo on $180K
Promissory Note signed by 4220 Baltimore LLC*
Mortgage signed by 4220 Baltimore LLC*
Personal Guarantee signed by Sunny Shakhawala
If you want to learn more or you're ready to make a soft commitment, please let me know! Simply call, text, or reply to this email. 🙏
*4220 Baltimore LLC is a single-purpose limited liability company jointly owned by Sunny Shakhawala (50%) and Francis Mangubat (50%). Certificate of Formation, F-EIN, & Operating Agreement will be shared in the Final Loan Package.